Garumba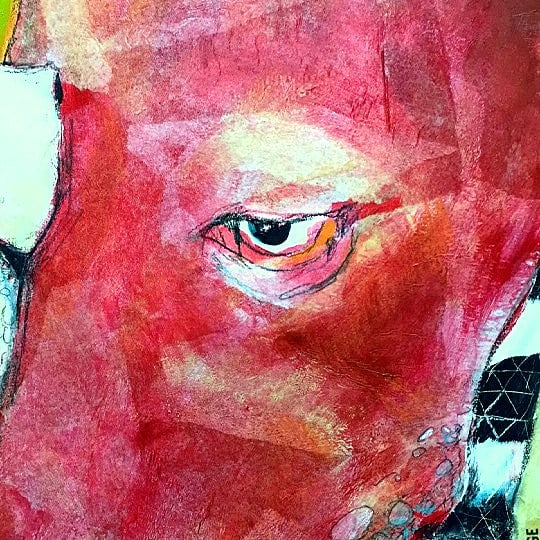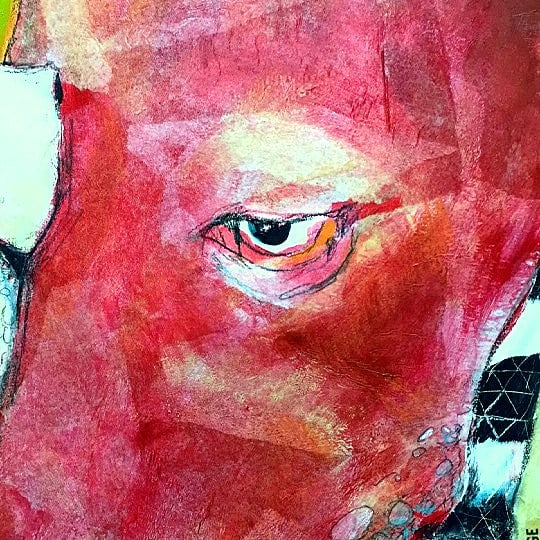 Garumba
"Garumba"
diptych 30" x 54" x 2" Acrylic, gouache,watercolor,ink, colored pencil, vintage papers, vintage dress pattern tissue, hand embroidery
Ready to hang with installed hardware
Part of my "Beasts" series, shown in solo exhibit at the Hanover Theatre, Worcester, MA. This series features endangered and at risk animal and plant species. My unique technique of embroidering on layers of tissue paper is utilized throughout this series. This series has received a good deal of attention from the community and art world. I had a feature article in Cloth, Paper, Scissors Magazine which highlighted "Garumba" (the White Rhino) as well as my embroidery on tissue paper technique. The Humpback Whale (Antongil Bay) was awarded a finalist in the 'Wildlife' category in the international contest hosted by Artist's Magazine in 2015. The opening reception for "Beasts" at the Hanover Theatre was the most attended opening in the ArtsWorcester history. The show was the largest grossing show for the Arts Association since 2008. I was a guest speaker at the Nantucket Whaling Museum in June 2015 where I discussed and introduced the series to a larger audience.
An excerpt from the talk:
The seed of inspiration to paint large portraits of animals was planted about thirty years ago when I was an art student working at the Main Street Gallery in Nantucket…I was struck by an artist the gallery represented who painted life-sized highly realistically rendered portraits in oil of sheep and cattle breeds. The artist painted them with such reverence and I've never forgotten them. I've also be influenced by the values of the Unitarian Universalist church which my family and I attend, which stresses the importance of using our own personal influence to make this planet we live on a better place and to care for the people and creatures we share it with with respect and care.
So, I began this series with the puzzle of marrying my whimsical, approachable style with a message that was more serious and contemplative. I challenged myself to bring the audience in and then inspire them into a conversation of sorts with the animal staring back at them and let the under current of the messages of conservation come to the surface as that relationship developed.
My intention with these portraitsis to force the viewer into contemplation, and to spark conversation between us, the holders of this place called Earth and those creatures and plant species we share it with. The highly debated and emotionally-wrought topic of climate change as well as the effect land development has had on habitat loss is the backdrop to this series. I did not set out to become a well versed scientist on the topic of the extinction crisis we are currently experiencing, but rather to approach this project as a concerned citizen whose mode of communication is through art. We do live in a pivotal time in the life of those species we share our planet with and I hope through this series to raise awareness and more importantly, to garner an emotional attachment to the actions we take as humans and it's impact on our co-journeyers.
If you live outside of New England, I will ship this painting UPS. I will ensure they pack it safely. If you live outside the USA we will need to negotiate the shipping costs before the sale is final.